MIDI Recorder with E.Piano simply performs record/playback as you input MIDI signals.
日本語のわかる方はこちら。
Contact Information is here.
Could you support me?
MIDI Recorder with E.Piano
Ryouta Kira

Description
When connecting an electric piano, organ, or keyboard to your iPhone/iPad, you can record the performance completely.
As a bonus, the app includes FM E.Piano sounds.
Also there is an on-screen keyboard, you can make a note of your idea anywhere.
– You can toggle kinds of signals to record.
– You can select MIDI channels.
– By default, the app processes signals from all MIDI ports. You can select ports on version 1.2 or the above.
– The app makes files of Standard MIDI File Format 0.
– iTunes File Sharing and iCloud are supported.
MIDI is a standard about controlling audio devices.
You can control musical instruments with separately sold MIDI adapter for iPhone/iPad.
The internal FM synthesizer processes only note on, note off, and sustain control, and ignores the others.
Attention:
This app may sound even if the device is silent.
The internal synth receives signals of the selected receive channel.
The synth will not sound if the channel is different.
Do not hesitate to write a review if you encounter some troubles.
The screenshots are under development.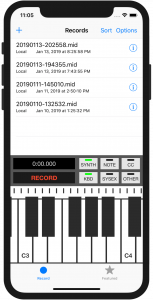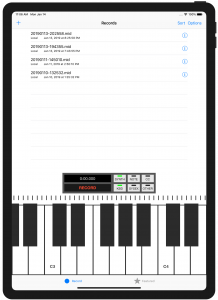 MIDI Recorder with E.Piano
Ryouta Kira

Version History
Date Format: Year-Month-Day.
Version 1.2.8
Fixed a bug which occurred with large iPhone.
Released on 2020-7-30
Version 1.2.7
Added Trim features.
Warns if data is empty.
Other small fixes.
Released on 2020-5-16
Version 1.2.6
Updated the synthesizer engine.
Other small fixes.
Released on 2020-4-19
Version 1.2.5
Bug-fix: A list of files except iCloud might not have been updated.
Released on 2020-1-13
Version 1.2.4
Supports iOS 13.
An issue that Bluetooth Devices are not found when switching tabs, is fixed.
Other small fixes.
Released on 2019-9-26
Version 1.2.3
Added tab bar buttons.
Fixed issue: Keys were pressed permanently when 3 finger touching.
Other fixes.
Released on 2019-9-12
Version 1.2.2
You can do "Save Files", and "Mail" by tapping an info mark and selecting "Open in …".
The local files are visible at Files.app. Open Files.app, select "On This iPhone/iPad" location, and select "MIDI Rec".
Other small fixes.
Released on 2019-6-27
Version 1.2.1
Added Volume Slider.
Clipboard UI was sometimes corrupted on iPhone with safe area.
Other small fixes.
Released on 2019-3-7
Version 1.2
Added a Record Timer.
Added Virtual MIDI Ports.
Now you can select MIDI Ports. (You can probably use some other routing apps.)
Changed a behavior when stopping recording.
Added Bluetooth MIDI support.
Released on 2019-1-29
Version 1.1
Improved UI appearance.
Bug-fix: Back button did not appear on iOS 10.x or below.
Other small fixes.
Released on 2019-1-14
Version 1.0
The initial version.
Released on 2019-1-10.
MIDI Recorder with E.Piano
Ryouta Kira